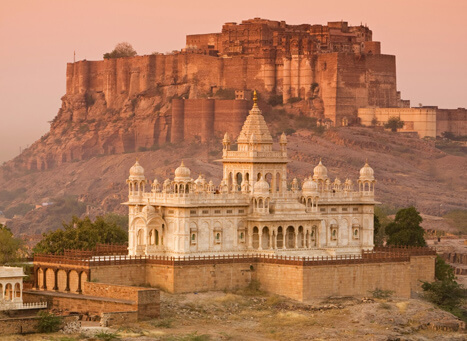 Book a Jodhpur City Sightseeing Package tour from Prime Adventure Cabs.
The city of Jodhpur is one of very few "Royal Cities" in India, where you have one of the biggest & most organized Fort, an astonishing palace and a memorial of Rathore Rajput rulers, which is known as the Taj Mahal of Jodhpur.
And if you are planning a Jodhpur city sightseeing tour for a day or two, then Prime Adventure Cabs is available at your service. We offer AC Cabs with drivers for Jodhpur City tour and the fare of this is:
5 seater sedan car like Dzire and Etios.
7 seater SUV cab like Toyota Innova.
12 seater tempo traveller with a tour guide.
Below we have shared details on Jodhpur tourism like:
Places to see in Jodhpur.
Best food destinations in Jodhpur.
Famous markets in Jodhpur.
And how to reach Jodhpur.
Feel free to call our manager at +91 7737735741 (Parmod Sharma) for more details.
Our Jodhpur Sightseeing Packages
Package A – One Day Jodhpur Darshan
Our Jodhpur Darshan Package is a one day sightseeing tour of Jodhpur, which include:
AC Cab with professional driver for 8 hours.
In this package, we suggest to start the tour around 9 AM and explore tourist sites like Mehrangarh Fort, Jaswant Thada, Umaid Bhawan Palace, Mandore gardens and the local markets near clock tower.
Package B: Two days Jodhpur Sightseeing
The two day Jodhpur tour itinerary is for those travellers who want to explore all tourist sites, local markets and dine at some of the finest palace restaurants. The tour itinerary of this two day Jodhpur sightseeing tour is:
AC Cab with professional driver for twp days and 8 hours.
Tour of all tourist sites in Jodhpur.
Tour of all markets in Jodhpur.
Dine at some of the finest palace restaurants in Jodhpur
Places to see in Jodhpur
Mehrangarh Fort
Umaid Bhawan Palace
Jaswant Thada
Mandore Gardens
Clock tower market
Places to see in Jodhpur
Gypsy Dining Hall
Janta Sweets
On the Rocks restaurant
Hanwant Mahal
Shandar Sweet Home
Places to see in Jodhpur
Osian Mata Temple
Ranakpur Temples
Khimsar Village Safari
Ajmer & Pushkar
Deogarh Mahal
Places to see in Jodhpur
Clock tower market
Sardar Market
Tripolia Bazaar
Mochi Market
Popular tours from Jodhpur
For travelers who have three days time in Jodhpur, we have some amazing and unique tours which start & end from Jodhpur. In these three days tour of Jodhpur, you will enjoy one day sightseeing on Blue City (Jodhpur) and spend one night in a nearby city. Details of this tours are:
Jodhpur Khimsar tour
In this package, we will first explore Jodhpur city tourist sites, restaurants, bazaars and night stay at Jodhpur on day 1. On Day 2, we will drive early morning for Khimsar Village Safari Resort (with a stop at Osian Mata Temple – optional) which is a beautiful desert dune village, turned into a cottage resort and is a famous desert safari destination in Rajasthan..
Jodhpur Ajmer Pushkar tour
In this tour, day 1 will be reserved Jodhpur tourist sites, and on day 2 morning, we will drive for Pushkar and Ajmer, where you can explore Pushkar Lake, Brahma Temple, Ajmer Sharif Dargah & more. Spend the night of day 2 in Ajmer (or Pushkar) and will drive back to Jodhpur on Day 3 morning.
Jodhpur Jaisalmer Tour
Our Jodhpur Jaisalmer tour is actually for three whole days, and we suggest to book their return tickets from Jaisalmer. In this package, Day 1 will be for Jodhpur, and by day 2, we will reach Jaisalmer by evening where we will first visit the Sand dune area of Sam. On day 3, we will enjoy a sightseeing tour of Jaisalmer.